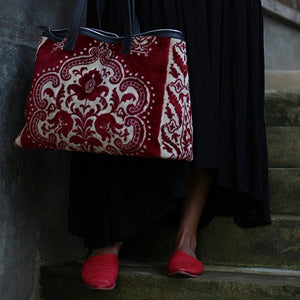 SAHARA Carpet Bag (red & cream)
Sale price Price $361.00 Regular price
Combining the alluring potential of a packed bag the day before travel and the mystical qualities of a magic carpet ride, the scope for adventures with our signature carpet bags is endless…
These limited edition bags are made from pieces of Moroccan fabric sourced by Rafti after she followed whispers, carried on Saharan winds through medina streets, that led her to secret places behind heavy wooden doors. 
Fully lambskin lined with a cow skin base and hand stitched tassel pull.
So harness your camel quickly as these exotic bags won't linger long!
Bag - 45cm length x 16cm width x 33cm height
Handles - 68 cm long & 30cm height
Tassel 15cm