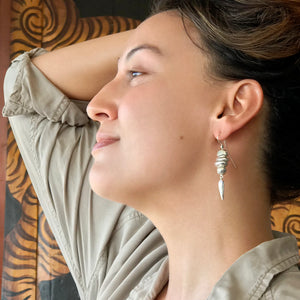 CALYPSO0102 Earring
Sale price Price $214.00 Regular price
CALYPSO was born from Rafti's collection of worn, sea aged shell ends searched and found daily on the waters edge.
It is a very simple & special collection that resonates deep in our mermaid souls.
Shell and sterling silver with our signature texture hand strung by Rafti while watching the ocean!

Sterling silver carved pieces
Drop - 6cm;