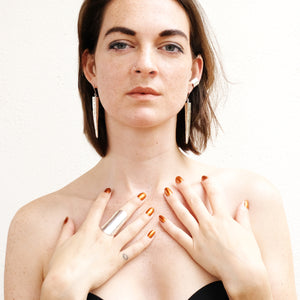 JELANI0101 tusk Earrings
Sale price Price $310.00 Regular price
Is a natural extension of the hand carved SEKE collection. To form the pure sophisticated tusk pieces into metal. 
They all completely hand shaped (I can't believe it when I watch them being made!) 
The earrings hang perfectly next to your neck....they are pieces to touch, to hold close, to find your fire. 
Drop - 7.2cm