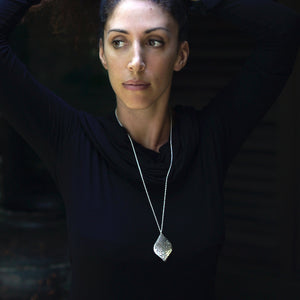 TESS2201 Pendant Necklace
Sale price Price $390.00 Regular price
Tess is feeling a little romantic. This beautiful pendant style can be worn both sides, simple clean minimal or whimsical revealed.
Hand cutout, hammered sterling silver, hallmark hand engraved by Rafti
Necklace drop - 5cm; double sided. Chain 70cm length

This item can be made to order if it is out of stock.  Contact us to have it made specially for you.